Permanent Jewelry
Jewelry that is never removed has been part of human history since the beginning of time. It's symbolic of one's life story, family, friends, or a romance; a unique way to carry your special and forever relationships with you or celebrate an occasion of significance in your life - birthday, marriage, anniversary, graduation, retirement and more.
Visit our jewelry bar at 558 Academy Road in Winnipeg, Manitoba to experience our new seamless, welded, permanent jewelry - the ultimate statement of friendship and love. If you're simply looking to never lose a bracelet again, you're in the right place. Welded bracelets are the perfect solution for effortless and no-fuss wear. There is no clasp, so you never need to worry about taking it on or off, or a clasp coming undone. Bring yourself, a friend, or a loved one and select from 14k Gold Filled or Sterling Silver chains to create your custom welded bracelet.
What to expect during your appointment
Delicate 14k Gold Filled or Sterling Silver chain is custom sized and cut to ensure it fits you perfectly. The chain is permanently welded closed with a quick spark or weld that takes seconds, creating a seamless jewelry piece.
Although the weld is "permanent", if the bracelet should ever need to be removed, it can be done by cutting the chain with a pair of scissors. There is always an option to have it re-welded or add a clasp to it for a small fee.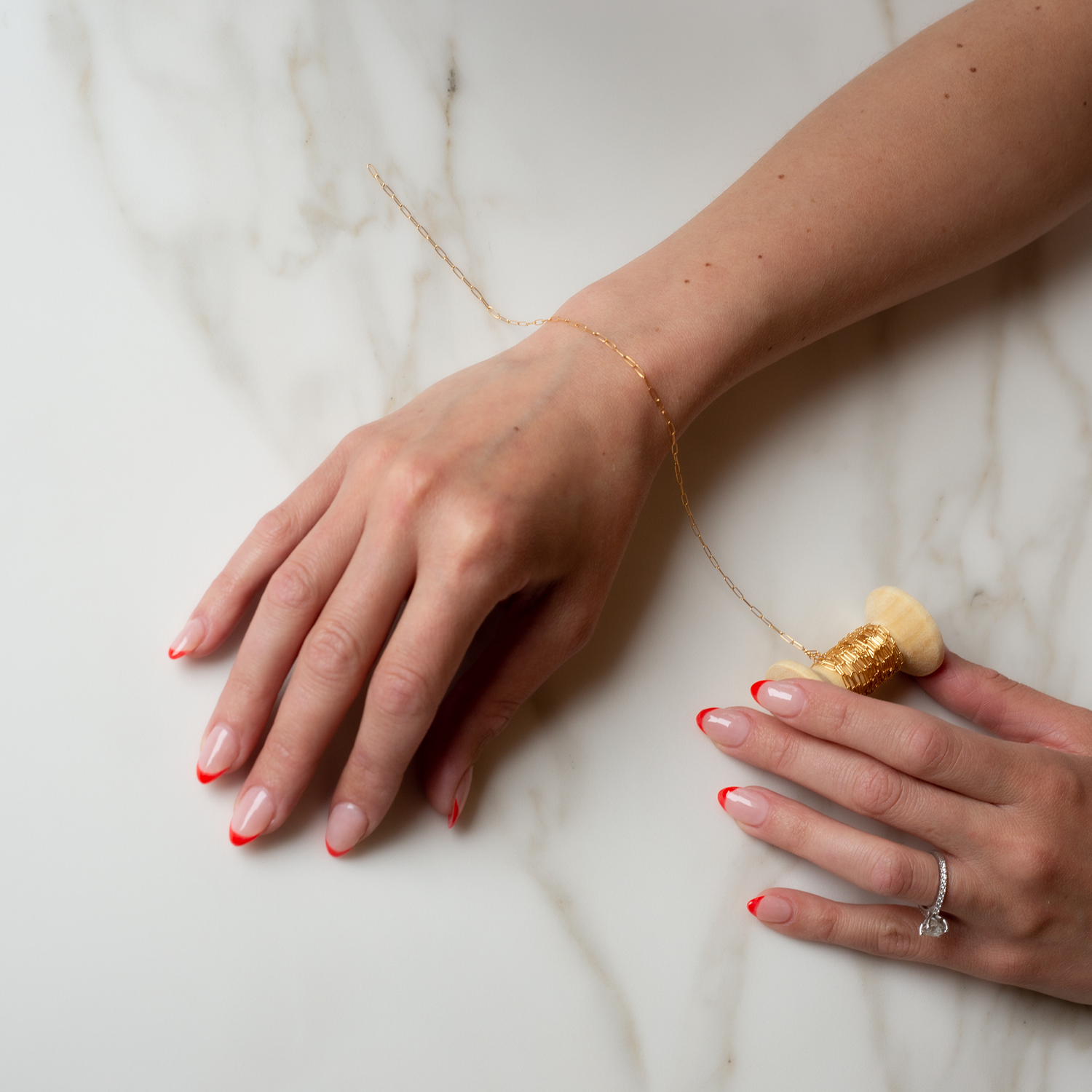 Select your chain
Choose from our carefully curated selection of 14k Gold Filled and Sterling Silver Chains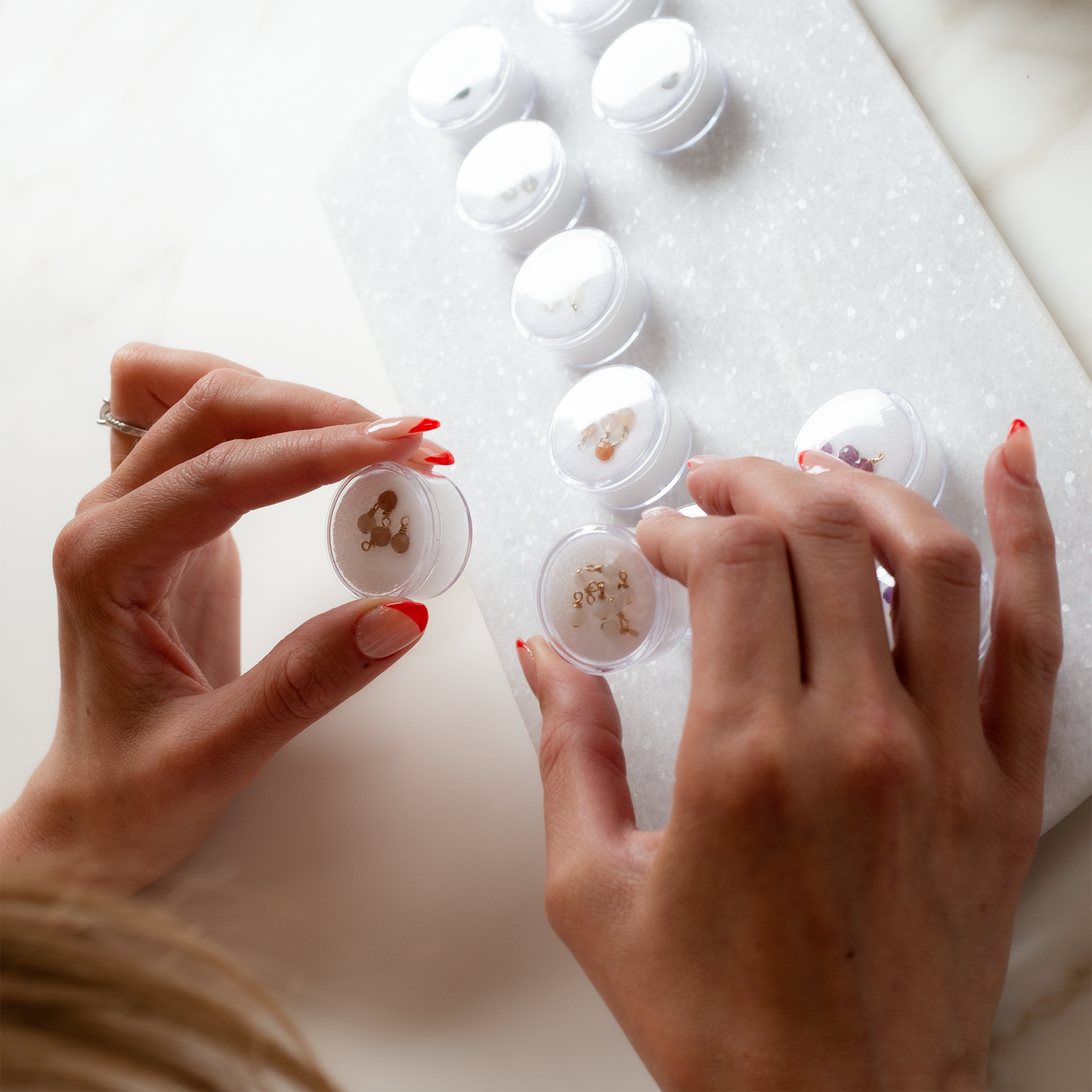 Choose your gem
Add a gemstone charm (or more) to truly make your permanent jewelry unique to you. Or, skip the charm to keep it classic and simple.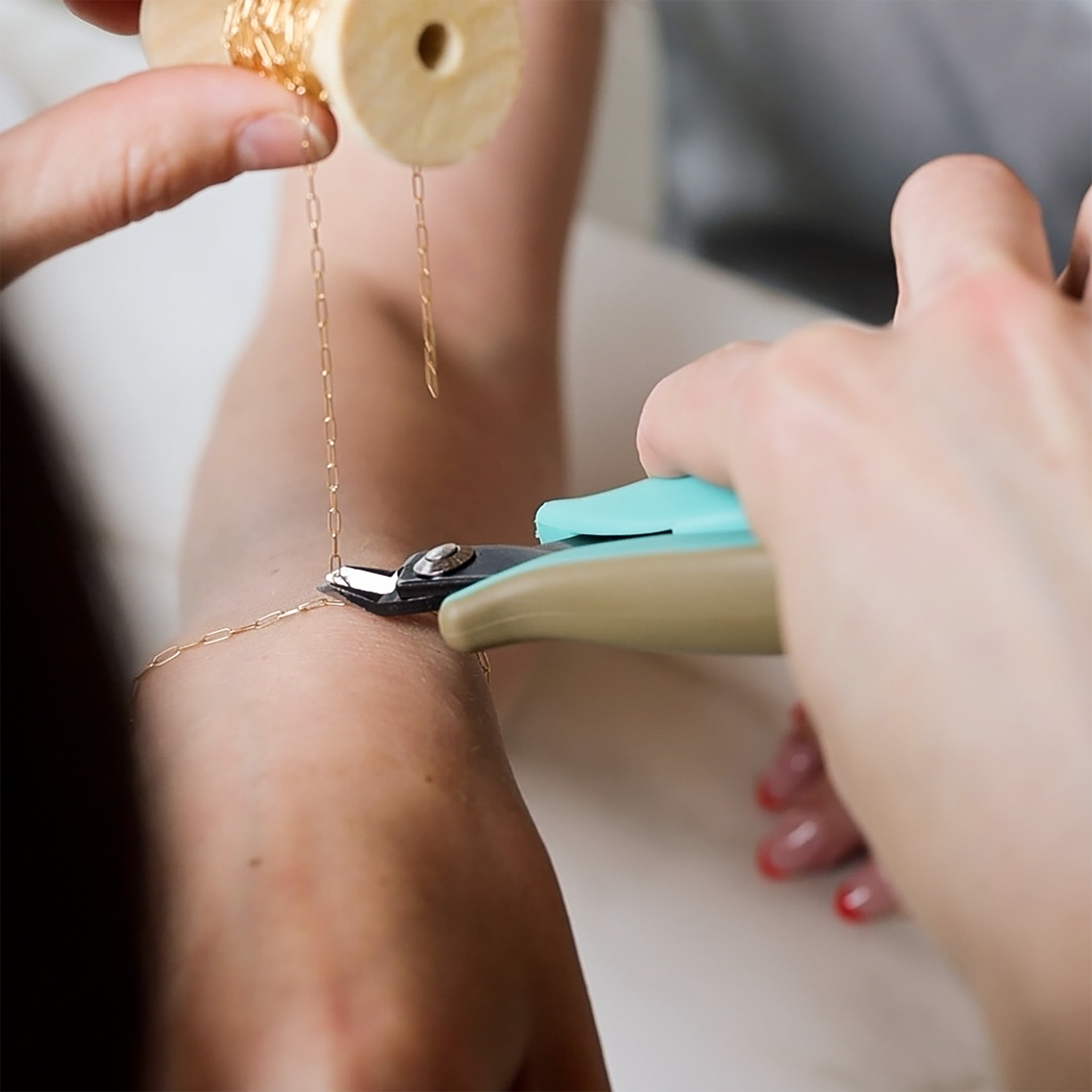 Get sized
Completely custom to you, the chain is cut at your desire fit and feel.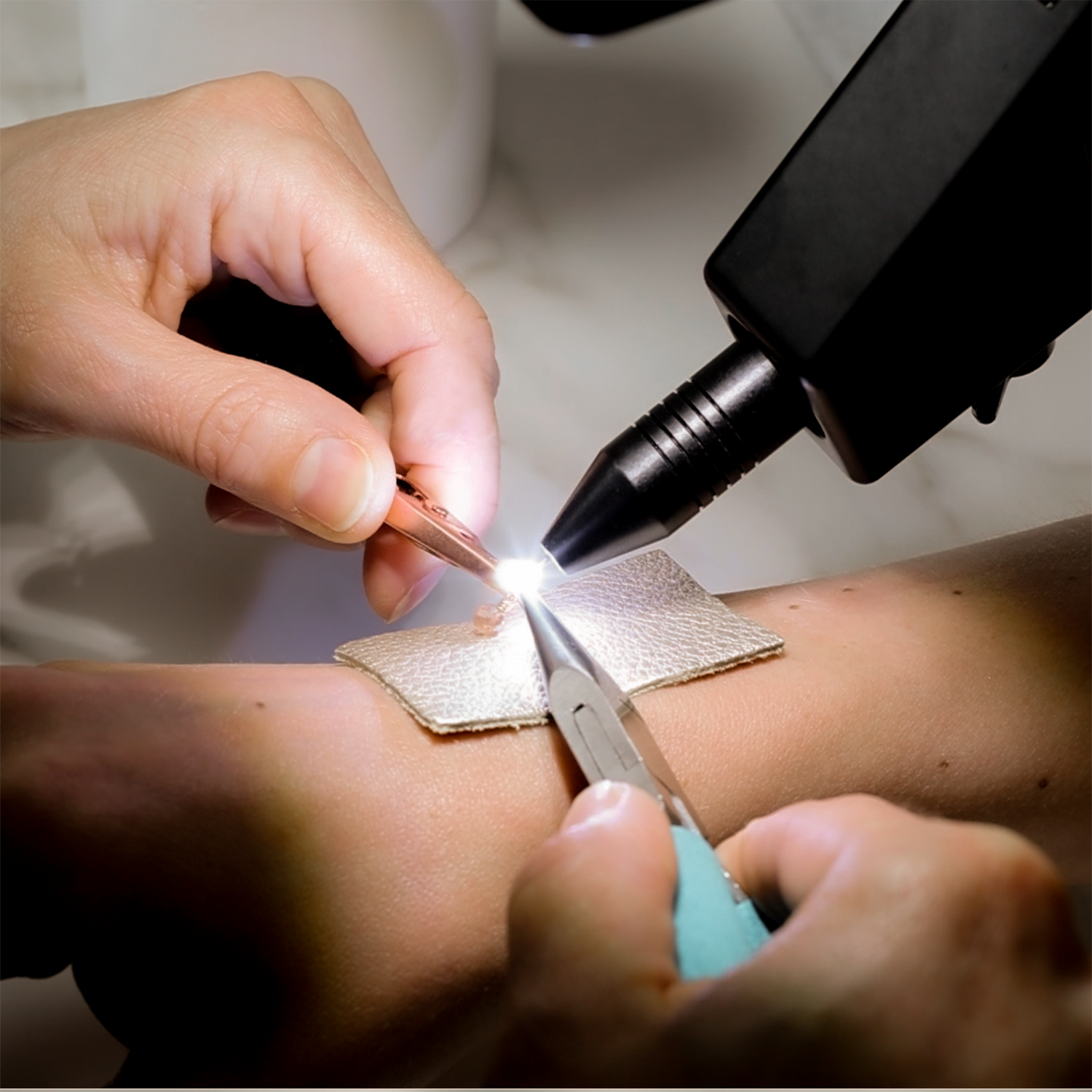 Get Sparked
Your chain is welded permanently closed with a quick spark, and you're finished.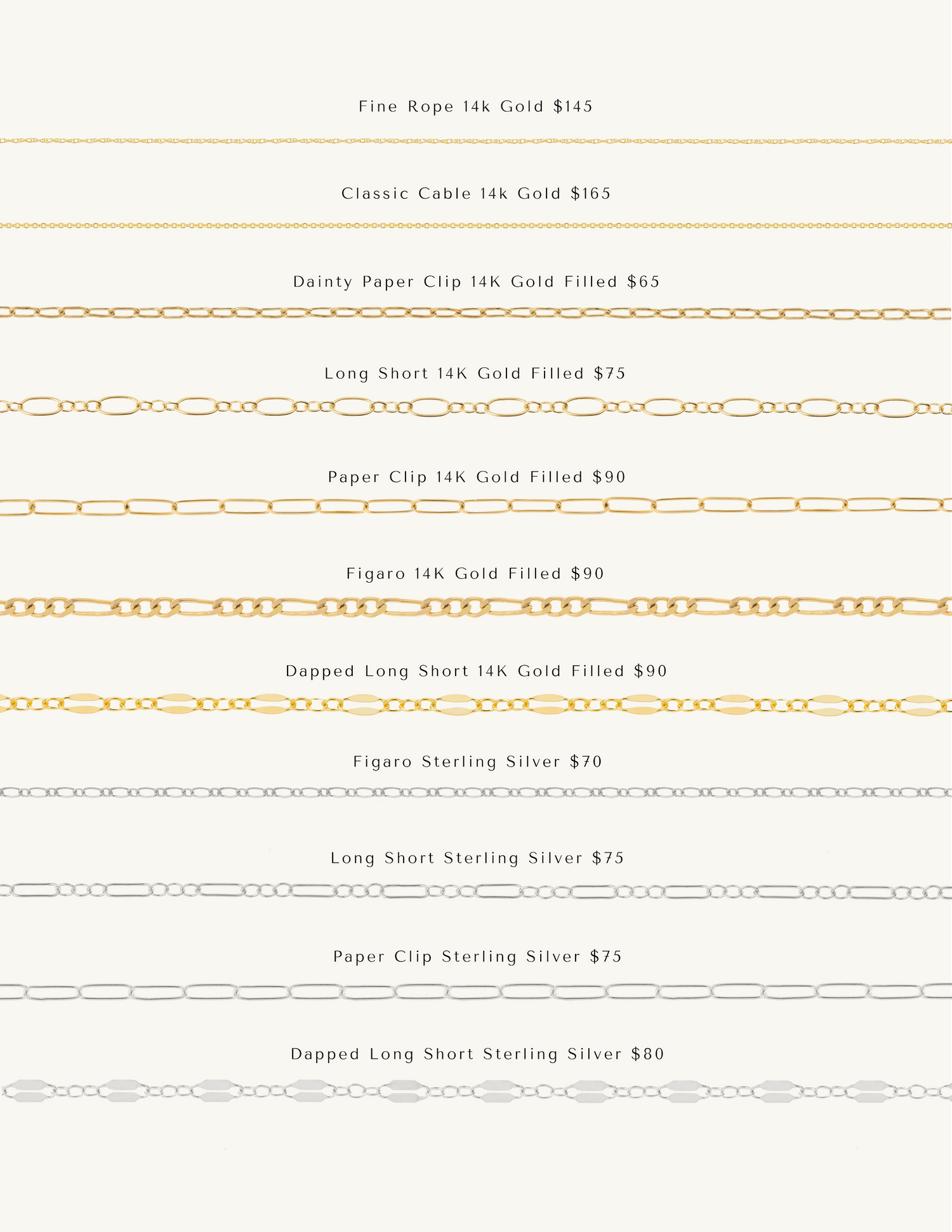 Chain Menu
Choose from our curated selection* of 14k Gold, 14K Gold Filled and Sterling Silver Chains.
*subject to availability
Add on gemstone charms
$15
Customize your permanent jewelry even more with and optional, handcrafted charm.
Ready to get sparked?
Click below to book your permanent, welded jewelry appointment.
Book My Appointment
FAQs

Does it hurt?
No! It's quick and completely painless.


What additional customizations are available?
Our chain menu is unisex and features 14k Gold Filled and Sterling Silver chains. Customize your bracelet even further by adding on a small, handmade gemstone charm of your choice for an additional fee.


What if I change my mind once the bracelet is welded?
All permanent jewelry is final sale. It cannot be exchanged or refunded.

Do I need any appointment?
We highly recommend booking an appointment. Walk up appointments may be accepted but not guaranteed. A valid credit card is required at the time of booking.
If you need to cancel your appointment we kindly ask for 24 hours notice to avoid a cancellation fee. Cancellations under 24 hours and no-shows will be charged a fee of $25 per person.


What if I need to remove my welded jewelry?
Should you need to remove your welded bracelet for any reason, it can be done with a pair of scissors at home or we can remove it at our store for you. We only use chain that can be easily cut. Once cut you have it re-welded or attach a clasp for a small fee.


What about airport security and diagnostic imaging? Will it cause a problem?
Dainty, semi-fine jewelry in our experience does not set off a metal detector, can be worn hassle free through security and does not need to be removed.
In the rare case you must remove your permanent jewelry for a x-ray, MRI or CT scan, gently cut the chain with scissors to remove. Store the chain away safely until you are ready to have it re-welded or come visit us to have a clasp added.

Is it really permanent?
The chain can be cut with scissors, but the actual weld under normal, everyday wear is permanent. Everyone's lifestyle is different and therefore we cannot guarantee that excessive pulling or torque on our chains will not cause it to break.


How did you decide to offer Permanent Jewelry?
Sarah has been designing and creating jewelry since 2012 and believes welded jewelry is a natural extension of her designs and brand. She is excited to offer a unique, beautiful experience to her Winnipeg customers. Already designing a vast collection of dainty 14k gold filled pieces with hand-selected gemstones, it couldn't be a more perfect fit.
Over the past few years, Sarah has extensively researched permanent jewelry, and how she could integrate it into her collection of designs. With her expert curation skills, incredible attention to the details, you are in the best hands possible!


Can you accommodate larger groups or private parties?
Yes we can! Permanent jewelry is the perfect experience for wedding parties, celebrating a birthday, graduations, corporate or special employee events and more. If you are interested in booking a group of 5 or more, a special event or occasion, or a specific time and day please send an email to info@sarahcameronjewelry.com for more availability and information.


Anything else I should know?
We use a special shielding gas for all welds. It ensures your weld stands the test of time and is extremely strong. Without it, welds will become brittle and break. It also prevents oxidization of the metal, and ensures the cleanest, shiniest weld possible.
You will also need to wear safety glasses to protect your eyes from the light of the small welding spark. We provide these for you.
Our space
We love all the details, visit our beautiful space curated and designed by Sarah at 558 Academy Road in Winnipeg - we can't wait to welcome you.
Our space is available for group bookings and private events. Interested?
Send us an email to info@sarahcameronjewelry.com